Manasir – The modern population [Translation into English: Heinrich Hall]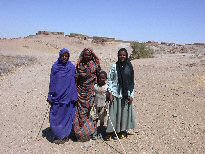 The H.U.N.E. concession lies entirely within the settlement area of the Manasir people. To this day, most of them live on arable agriculture, date palms and small animal husbandry. The terrain usable for these activities is extremely small, but climatic conditions permit two harvests per year. Wheat, lentils, broad beans, chickpeas, as well as okra, cucumbers, tomatoes, aubergines, onions, water melons and pumpkins are the main winter plants. In summer, besides pulses and vegetables, mainly sorghum is cultivated.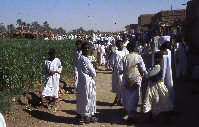 The village communities in Dar al-Manasir are small and usually have no more than a few dozen inhabitants. Markets only take place at central points, in our concession area once a week at Salamat. Secondary schools, shops, and other basic infrastructure, such as doctor's surgery, only exist at Salamat and in some larger communities on Shirri island.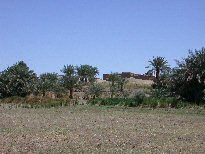 The circa 30,000 Manasir – all Arab-speaking and Muslim – will have to leave their traditional homelands and are thus the population group most directly affected by the dam construction. In total, at least 48,000 people are to be resettled in four areas upstream and downstream from the flooded region. Evacuation procedures have not yet been completed. The abandoned villages are an eerie sight, as they were systematically destroyed, so as to prevent a return of their inhabitants.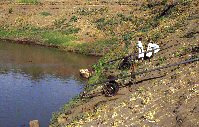 In their future settlement areas, the inhabitants will have to get used to entirely new circumstances – a different landscape, different economies, different houses, and different social networks. The Manasir are under threat not only of losing their traditional way of life, but of the breakup and disappearance of their socio-cultural unity. State-sponsored counselling or advice in the context of preparing the evacuations has not taken place so far. The Manasir do not even know exactly when they are to leave their homelands.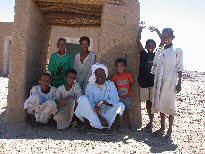 During our fieldwork, we are in close contact with the local population: we live and work with them. Thus, we do not just want to be archaeologically active, we would also like to assist in the hard process of re-settling, and, at least, to help document the cultural heritage and preserve it for the present and future generations of Manasir. In future campaigns, we will be accompanied by an ethnologist.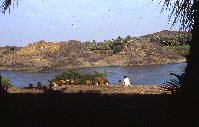 The Manasir face an uncertain future. During the resettlement, they will have to limit themselves to what is necessary and transportable. Many things will be left behind. They do not even have the possibility to bring pictures of the homelands that will be irreplaceably lost – they do not even possess any cameras, a mere commonplace object for us.
Following the request of our hosts, neighbours, and of Manasir living in the general area, we have not only photographed antiquities, but also taken numerous pictures of the local population in their everyday surroundings. Prints of them are being sent to the Sudan. This is to be only the start of a systematic account of current life in Dar al-Manasir. Our aim is the creation of an archive of images and sound recordings, to be available to the Manasir in their future homelands.
Financial support has been secured neither for the planned ethnographic fieldwork, nor for the action "Photographs for the Manasir" or the memory archive. Sponsors specifically for these projects are thus extremely welcome. If you decide to support the work of H.U.N.E., and want your contribution to be used specifically for the documentation of the local culture, please add the keyword "Dar al-Manasir today" to your transfer.